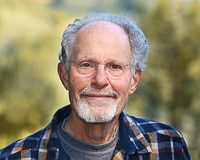 I am Board Certified in Rehabilitation Psychology by the American Board of Professional Psychology (ABPP), and am now retired from research and teaching as an Assistant Clinical Professor of Psychiatry & Behavioral Sciences at the Northwestern University Feinberg School of Medicine where I contributed my services from 1991 to 2016.
In my work, I was often called upon to integrate my advanced training in clinical neuropsychology, family therapy, and sex therapy. Probably far more significant, though, were my core beliefs about psychotherapy: I am of the conviction that psychotherapy is a fundamentally sacred process, not a technical procedure.
In the overwhelming majority of instances, the true purpose of psychotherapy should be expressed in the genuine response–accurate and selfless–of a psychotherapist to some crisis in the way that another person experiences their humanness–not in manipulations to engineer a treatment for psychiatric disorder. The single most important activity of psychotherapy, therefore, is the establishment of a committed but non-possessive relationship in which the authentic dialogue of mutuality can occur.
I firmly believe that this kind of mutual coming-into-relationship between two people, meeting face-to-face, is the necessary condition for psychological and spiritual healing. This humanizing relationship must be radically individualized and fully confidential. Most of my energies as a psychotherapist were devoted to seeing that these conditions were met to the greatest extent possible.
Specialty Practice Areas
Dr. Margolis has had experience working people in the following areas of difficulty:
Amputation
Attention Deficit Disorders
Brain Injury
Caregivers' Issues
Chronic Fatigue
Chronic Physical Illness
Co-Dependency
Couples' Issues
Dementia
Disability Issues
Epilepsy
Erectile Dysfunction
Family Systems
Fibromyalgia
Gender Issues
Identity Issues
Learning Disabilities
Life Management Issues
Men's Issues
Midlife Issues
Multiple Sclerosis
Neurological Disorders
Parkinson's Disease
Perinatal Loss
Physical Disability
Post-Traumatic Stress- Disorders
Relationship Issues
Sexual Addiction
Sexual Dysfunction
Spinal Cord Injury
Stroke
Women's Issues
Work/Vocational Issues
Practice Modalities
Some of the additional modalities that Dr. Margolis has utilized in his work with people are:
12-Step Work & Recovery-oriented Psychotherapy
Behavioral Sex Therapy
Behavior Analysis & Therapy
Bibliotherapy
Buddhist Meditation
Cognitive-Behavioral Therapy
Existential Psychotherapy
Expressive Therapies
Gestalt Therapy
Guided Imagery
Hypnotherapy
Life Coaching
Medical Psychotherapy
Narrative Therapy
Phototherapy
Rehabilitation Psychotherapy
Relational Psychotherapy
Solution-Oriented Therapy
Spirituality-based Counseling
Vocational Counseling
Vocational Rehabilitation